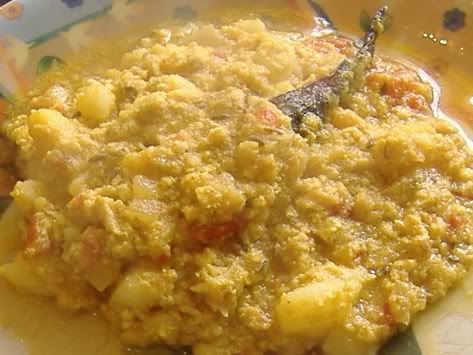 After a long time, a pure play bachelor recipe.
One of the first curries I learnt, and loved.
Still my favorite, and the easiest.
Not quite bland, not quite strong..
Light on the stomach too.
When I was a kid, I used to like Boiled Potatoes mashed and then lightly fried in onions, much like Dosa Masala, but with only onions.
When I started living away from home and learnt to feed myself, that was one of the first dishes I prepared.
I never got bored of it.
One fine day, I thought I would add eggs to it, just for the sake of it, and the taste left me surprised and wanting for more. Perhaps I cooked the same dish for the next few weeks when one fine day, tired of cooking another gravy accompaniment, I decided to add water, and Bingo! Here was the simplest and one of the yummier Bachelor Dish.
Then I learnt more complex dishes like Mutton Korma, Pork Vindaloo, Sarson da Saag and palak paneer, and I completely forgot my old time favorite. Till a few days back I longed for that old dish, I used to savor, spoonful by spoonful.
This is no secret.
It is only so simple nobody thought of trying it, perhaps.
For the Bachelor Egg Curry, you need:
4 eggs
3 large potatoes
2 Tomatoes
1 onion
1 Tbs Ginger-Garlic ( I later added this to the original recipe of onions only to add to the flavor)
2 green Chilli Sliced
1 red Kashmiri Chili ( for Style lol, optional)
1 bayleaf
1 tsp jeera ( Cumin)
1/2 tsp each jeera (Cumin) and dhania (coriander seed) powder.
Some red chilli powder and turmeric.
Salt to taste
Peel and boil or boil and peel potatoes.
I usually peel add potatoes to rice.
Shortcut you see, it is suppose to be a bachelor Recipe, no?
And potato boiled in rice taste better it seems.
If you had added in rice, wash off the rice..(the potato, that is)
Otherwise remove from boiling pan, peel if it was not peeled.
Roughly mash and keep aside.
Heat water in a separate pan..
Heat oil, 2Tbs . More if you don't care much about oil ;-)
Add bayleaves, Red Chili, Jeera (not the powder), green chilli, onions and the ginger garlic.
Saute till onion is limp and add a lil turmeric ( little less than half tsp) and red chilli powder.
Add the Tomatoes.
Add the mashed potatoes and mix well.
Lower heat and keep mixing or scrapping the bottom with the skillet.
Boiled potatoes have tendency to stick.
Break the eggs into the mixture and keep mixing till eggs coagulates properly.
The mixture should not be wet and sticky.
Add 1 and half cups of boiling water.
Add salt, You may add some dhania jeera powder mix now. (This is optional)
Shimmer for 5 minutes.
Garnish with Dhania.
Serve Hot with rice.
PS:
I have been very busy past few weeks, and thus the infrequent post. I haven't been cooking kuch, and if I did it has mostly been chicken and mutton but then I had written about chicken and mutton many times, and I cook it only the way I always do. Habits you see.
I will be more regular I promise you all!
Technorati tag::
Curry
:
Egg
:
Bachelor Recipe