Umm... The picture is not just right. So was the last one.
I thought I would get nicer pictures with the flash on, but somehow it is darker with the Flash than without. I am very confused, maybe the timing in my camera is faulty. Or maybe, since the background was white, the flash got reflected as the picture was registering. But this I am sure, I will not use them when I cook my Lasagna or Mutton Masala tomorrow( I haven't decided yet).
OK this is my entry for Meena's Breakfast Mela.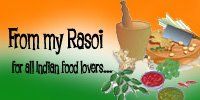 Potatoes on eggs.
I cooked it and posted a slightly different version earlier,
here.
It was the scrambled version, and I didn't want to submit the same as I posted on a different note.
This Omelette here is extremely filling, and tasty.. Last you till lunch for sure.
And they say, eat Breakfast and Lunch like King, and Dinner like a Pauper.
I know for sure that this never was on the King's Breakfast menu, but he would had it if he knew. Its rather simple too.
You will need a large Potato, a largh Onion, (no chilli in the morning lol), a Large Tomato, two eggs and Oil. Salt as well..
Chop the onions real small.
Cut the potatoes into small slivers,**see below.
Finely chop the tomato.
Pour oil, about 2 TBS onto a flat non stick Pan.
When hot, put a tsp of jeera and immediately put the potatoes.
TRICK
is to spread the potatoes on the pan evenly so that all potatoes cook evenly without having to mix all the time. In high teperature, the potatoes get scooked in 4-5 minutes.
Turn or mix the potatoes, the way you suate vegetables.
( and warning, slight neglect and the pototaoes wil burn in which case you have throw away the burnt ones cut fresh potatoes again)
When the potatoes are slightly cooked, add the onions and fry for 3-4 minutes.
Add salt, a pinch of red chilli powder and jeera powder and the tomatoes, and again fry for 2-3 minutes.
Beat the Eggs well with a litttle salt.
Pour the eggs even over the mixture and don't mix...( Ok you may mix them quickly but once the egg gets solidified, leave it as it is)
Cover and Cook in the lowest possible heat for 4-5 minutes.
Eat with Sauce...off the pan ( if you are indeed a single bachelor lol)...
** refer to my old post to see the size. OR,
Should be cut into about 1 inch long and just as thick as two matchsticks .
First cut into Halves.
Keep it face down on a Chopping board( a plate will do)
Cut into about 2 mm thick slices horizontally, and cut the same way perpendicular to how you have just cut.
## Don't over cook that the bottom gets burnt or the egg gets plastic hard.